Contemporary Ring Latch Set - Stainless Steel
Included in Set: Two-Sided Gate Latch + Gate Stop + Padlock Eyes
This Contemporary Ring Gate Latch accommodates in-swinging and out-swinging gates. The latching portion is installed on the side of the gate that it swings toward. If gate swings out, the latch is on the outside.
This latch is available in a 5-3/8" length. The length is measured from the center of the ring handle to the end of the latch-arm. The finish is a matte marine grade stainless steel.
If you're interested in the look without the functionality of a latch, we offer a dummy ring handle. This latch is item 6149.
No handing is required for this latch. The latch is operable from both sides of the gate. Fits gates up to 5" thick.
This standard set includes:
Two-sided gate latch

Gate stop

Padlock eyes
Hinges and accessories can be added to the package.
Details of this gate latch:
Material: Marine Grade 316 Stainless Steel

Mechanism: Gravity

Finishes available: Matte Stainless


Set includes gate latch set and gate stop, stainless steel fasteners

Fits gates up to 5" thick.
For thicknesses less than 5", you can cut down the included aluminum spindle on site.

Operable from both sides.

Suitable for in-swinging and out-swinging gates.

Handing not required with order.
Dimensions of the gate latch:
Backplate: 2.5" w x 4" high

Ring diameter: 3"

Catch: 3/4" W x 3-3/4" H

Limiter: 3/4" W x 3-3/4" H

5-3/8"" Arm Length (measured from the center of the ring handle to the end of the arm)

1-1/2" projection on the latching side; 1" on the ring-only side
Important: Please check that the dimensions of this gate latch will fit your particular style of gate!
Options
Hinges | Add hinges to your order if needed. Double gates will use 6 hinges (or 4 strap hinges) and single gates will use 3 hinges (or 2 strap hinges).
FAQs
What is a gate stop?
Gate stops can be made of wood or metal. The metal one included in this set is to be installed to the edge of the gate so that it catches on the post when the gate is closed.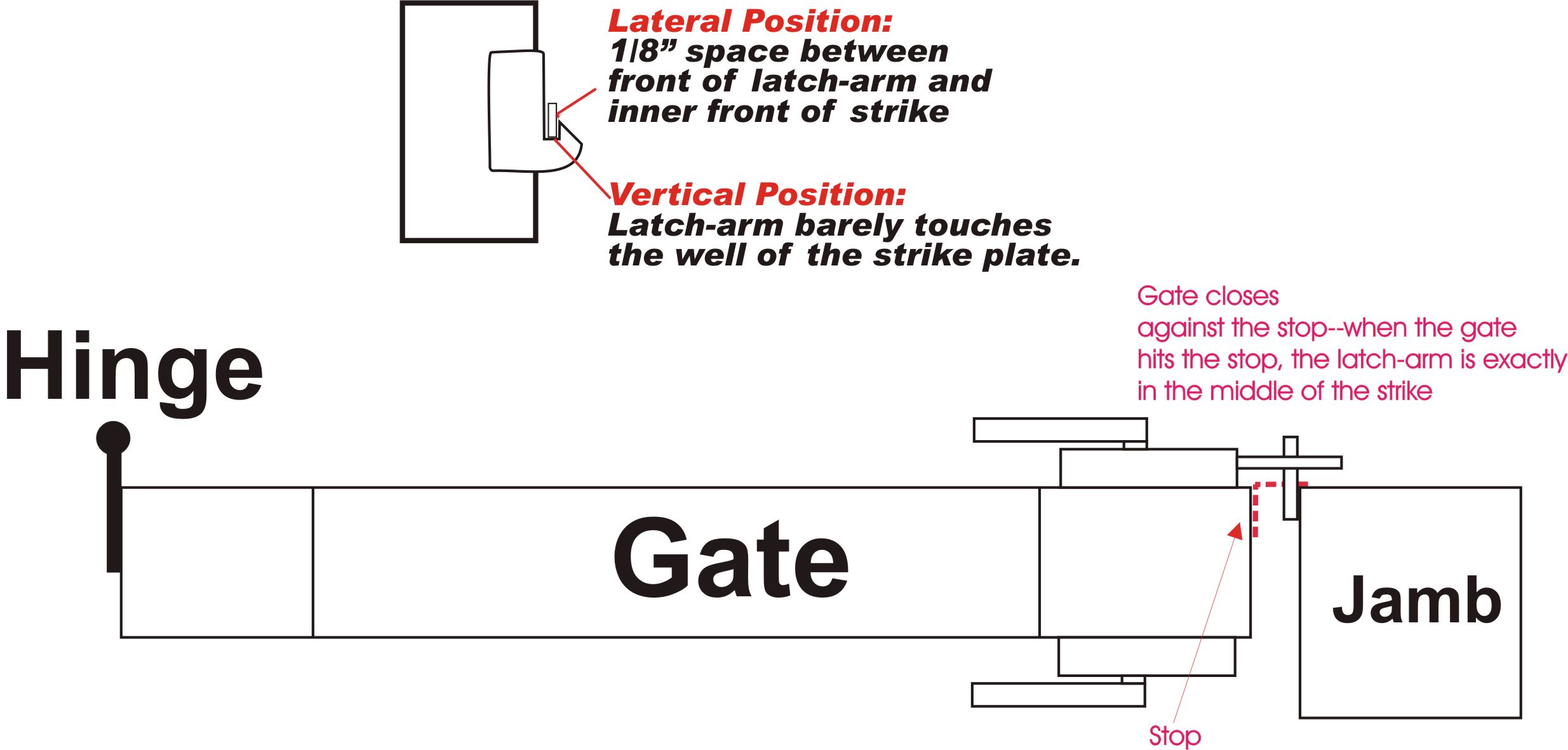 Read our FAQs
for additional information about various products and policies.
Warranty & Return Information
Warranty
Snug Cottage Hardware, LLC guarantees the BPPCG product. They will replace free of charge any BPPCG product that breaks and is found defective for the life time of the original purchaser. Product must have been installed and maintained as per instructions supplied with original product. Gate stop installation is required for latch warranty to be in effect.
More details available here.
Returns
This product can be returned in its original condition (original packaging intact, uninstalled, can be put back on the shelf directly) with a 10% restocking fee. If any effort is required to repackage or review the hardware, the restocking fee will be 25%. Customer responsible for return shipping. To initiate return, please complete the Return Form.
Initiate a Return Now