18" Stainless Steel Cane Bolt
with Black Powder Coat Finish
This is a heavy duty cane bolt for fixing one side of a double gate or door opening. It can also be used as a heavy duty horizontal slide bolt, or to bolt the top of a door to the head jamb.

This 18" Stainless Steel Cane Bolt has a satin black powder coat finish. We've included a bushing at each friction point to ensure smooth operation.
The brackets are made from type 304 stainless steel, the cane is type 304 stainless steel, and the screws are type 18-8 stainless steel.
Overall cane dimensions are 5/8" x 4-1/4" x 18". Brackets are 1-1/2" in width and project 1-3/4", with the guide bracket measuring 3-5/8" in height, and the combination guide/hanger bracket measuring 3-7/8" in height. Strike plate measures 1-1/4" x 4" with two screw holes and one hole for the bolt to pass through.
Details
Standard configurations allow for a minimum of 2" of engagement
The cane has a tapered end to facilitate engagement in the adjacent surface
Each kit includes stainless steel fasteners with a matching finish and a stainless steel roll pin
A hole for the roll pin is positioned to prevent the cane from being withdrawn from the lower bracket during normal operation and also from being easily removed altogether
Includes strike plate
Package Includes
1 Solid 5/8" Cane
1 Guide Bracket
1 Combination Guide/Hanger Bracket all in matching finish
1 Strike Plate with #12 x 1-1/4" fasteners
Also included is a stainless steel roll pin, which can be inserted so that the cane bolt can't be pulled all the way out
Fasteners included for cane bolt brackets are #12 x 1"
Options
There are no other options available for this cane bolt.
Alternate Configurations
There are no other configurations available for this cane bolt.
Technical Info
Hardware Tips
Take a look at the Gate Hardware section of our blog for helpful suggestions.
Resources
Maintenance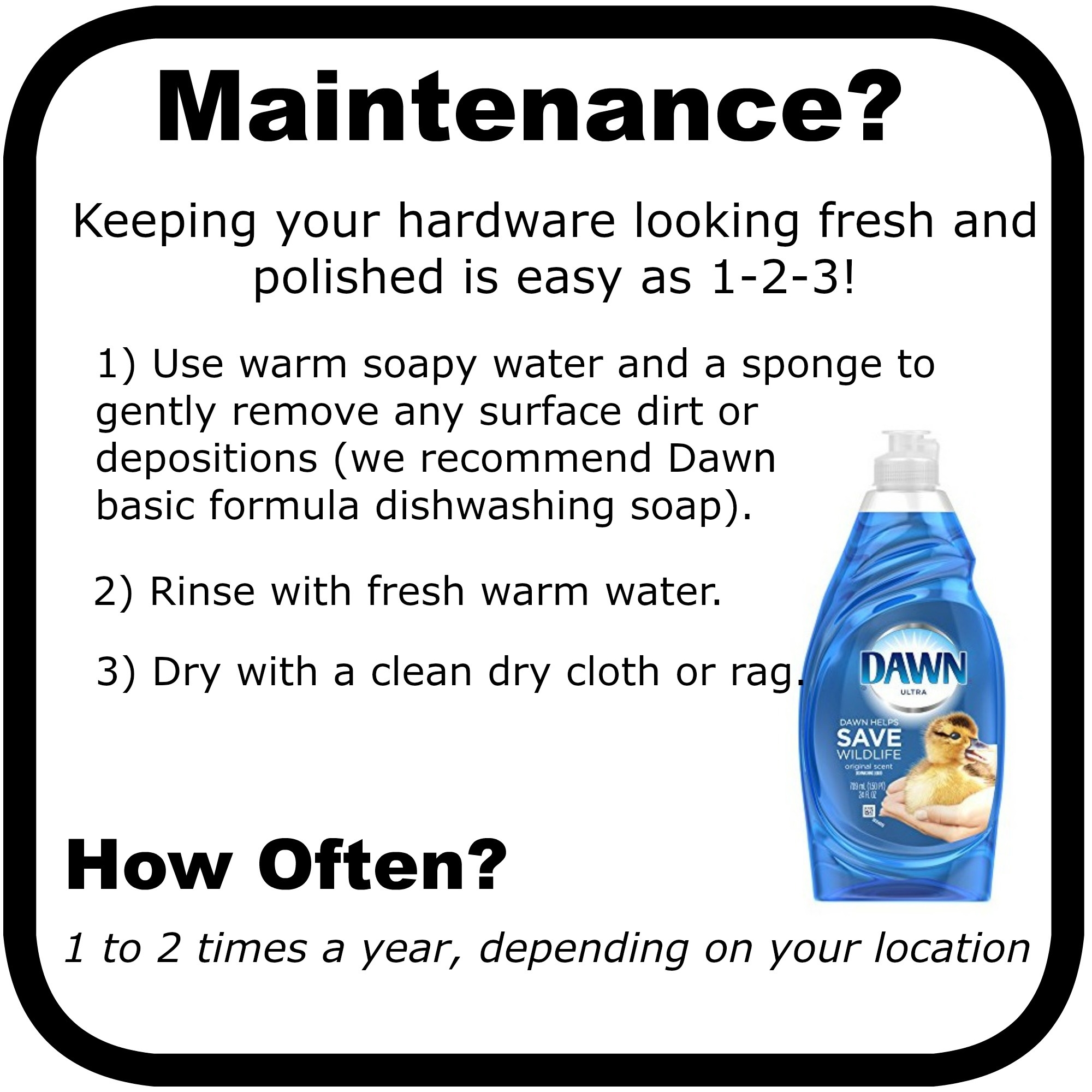 To learn more about stainless steel hardware, care, and maintenance, visit our help page.
Please review our Resources page for general information about all our products.
FAQs
Read our FAQs
for additional information about various products and policies.
Warranty & Return Information
Warranty
360 Yardware warrants this hardware to be free of defects in material and craftsmanship for two years from the original invoice date.
Returns
Non-custom merchandise is returnable or exchangeable within 30 days of delivery. We charge a 15% restocking fee for returns (nothing for exchanges). Products must be received in original, uninstalled condition.
Custom-produced items (stone doorbells, address plaques) and are not returnable.
The return process in a nutshell:
– Request a return and receive an RGA e-mail with instructions.
– You'll ship back the product(s) you want to return.
– When product(s) is received, we'll confirm product is undamaged and resellable.
– Refund, less 15% restocking fee, will be issued.
To receive a full refund, the original item MUST be in new condition and returned:
Still in sealed plastic packaging inside product boxes (as originally received)
Without dirt or sawdust
Without damage to product finish from incomplete protection during shipment
All returned items are thoroughly inspected, and any item(s) returned in a condition deemed as no longer sellable will not be refunded.
Initiate a Return Now