Solid Brass Deadbolt - Square Style
Emtek deadbolts provide security in an attractive package. Emtek deadbolts have solid brass cylinders, housings, collars, and rosettes. Available in all finishes and in Single or Double Keyed functions.
Emtek brass deadbolts fit doors of this thickness:
Single cylinder deadbolts can fit doors and gates up to 5-1/2"
Double cylinder deadbolts can fit doors and gates up to 2-5/8"
Details:
Comes with two keys
Deadbolt plate measures 2-1/2" x 2-1/2"
Schlage Keyway
Standard 2 1/8" Door Prep
Solid Brass Cylinder
Sandcast Bronze Collar
Hardened Steel Bolt
Heavy Gauge Steel Understrike and brass trim strike shipped with every deadbolt
Options
Finishes
Oil-Rubbed Bronze
Flat Black
Satin Black to match 360 Yardware gate latches (Oval or Nero)
Backset
Cylinder Type
Single cylinder
Double cylinder
Gate Thickness
Single cylinder deadbolts can fit doors and gates up to 5-1/2"
Double cylinder deadbolts can fit doors and gates up to 2-5/8"
Keyed Alike
When you need to order multiple locks and want them to all be operable by the same key.
Technical Info
Hardware Tips
Maintenance: We recommend periodic greasing of the interior of the deadbolt, so that the deadbolt withstands the outdoor elements.
If you're considering a deadbolt for your project, please read through our page "What You Need To Know: Using Deadbolts for Gates."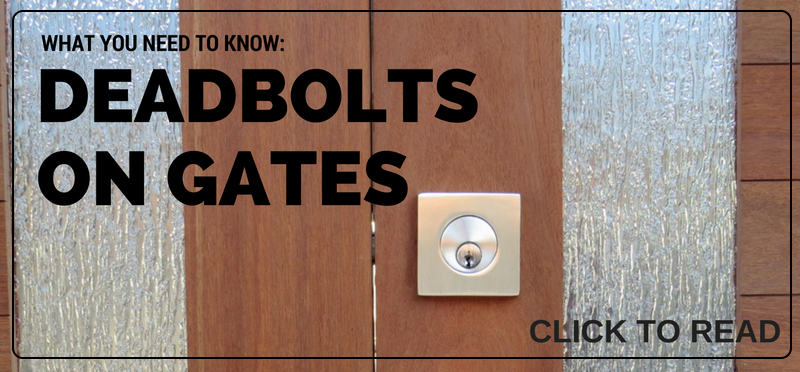 Take a look at the
Gate Hardware
section of our blog for helpful suggestions.
Resources
Please review our
Resources page
for general information about all our products.
FAQs
Read our FAQs
for additional information about various products and policies.
Warranty & Return Information
Returns
Custom-produced items (stone doorbells, address plaques) and are not returnable. All other merchandise is returnable if it has not be installed. Restocking fees vary by manufacturer; if a return policy is not listed on the item you're interested in or that you've purchased, please contact us and we'll clarify it.
The return process in a nutshell:
– Request a return and receive an RGA e-mail with instructions.
– You'll ship back the product(s) you want to return.
– When product(s) is received, we'll confirm product is undamaged and resellable.*
– Refund, less $25 processing fee, will be issued.
*To receive a full refund, the original item MUST be in new condition and returned:
Still in sealed plastic packaging inside product boxes (as originally received)
Without dirt or sawdust
Without damage to product finish from incomplete protection during shipment
All returned items are thoroughly inspected, and any item(s) returned in a condition deemed as no longer sellable will not be refunded.
Initiate a Return Now